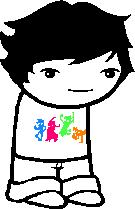 I like to use MSPaint myself, and have so far made two adventures for friends on Facebook. The first , Paldadins and Bradley, is completely original. It was discontinued, but I restarted with a new character due to popular demand. The other MSPA is called Bairnquest, and is very Homestuck inspired. It was discontinued because most of my readers weren't into character development or plot, preferring brain farts with accompanied art.
I discovered MSPA through Newgrounds, I go by the same username there.
My Zodiac sing is Capricorn, so I regard Gamzee as my patron Troll. I dressed as him for Halloween, as my Halloweens are really just excuses to cosplay. My Friend went as Karkat, and his little brother as Sollux.