Ad blocker interference detected!
Wikia is a free-to-use site that makes money from advertising. We have a modified experience for viewers using ad blockers

Wikia is not accessible if you've made further modifications. Remove the custom ad blocker rule(s) and the page will load as expected.
The Underlings are monsters created by the Denizens on commission from Agents of Derse. They are the primary enemies in Sburb, and their job is to oppose the players- they do not assist the Dersite army on the Battlefield - indeed, Wayward Vagabond, a Dersite soldier, was not even familiar with the term "Imp" post-exile. Unlike most Prospitians and Dersites, they are physically affected by pre-entry prototypings, though unlike the kings and queens (and Jack Noir), they usually don't take on the attributes of all of them. When killed, Underlings explode into piles of grist, sometimes also leaving behind Vitality Gel cubes and / or additional remains, such as stains (as seen with shale imps and tar basilisks) or heads

. Each underling is associated with and named after a specific type of Grist, and drops that type of grist when killed, although they can also drop additional varieties of grist. It can be postulated based on the contents of the Act 6 Act 4 Flash that Underlings encountered in void sessions are skeletal. It is noted that

the skeletal Underlings of void sessions are very difficult to permanently kill, collapsing into piles of bones before reassembling and attacking again.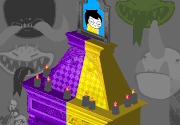 Known underlings include Imps, Ogres, Basilisks, Liches, and Giclopses. There is one unknown type of underling that is seen as one of Grandpa's game trophies. Three large, unnamed underlings are seen in [S] Jack: Ascend.

, including a horned underling of the same type seen by Grandpa's fireplace. Another unknown underling, noted for having an extremely long body, is seen behind Terezi here

; this is confirmed to be a separate underling type (rather than the length being a result of one of the trolls' prototypings) by the existence of a skeletal equivalent here

.
Three additional large, powerful Underlings are seen in the beginning of [S] Cascade.

on LOHAC, attacking John as he initiates the scratch. As implied by Karkat, these enemies that attempt to stop the scratch from happening may be some of the most powerful foes in the game, aside from Denizens.
Homestuck Characters

v

·

d

·

e

Pre-scratch
Kids

Heir of Breath
Seer of Light
Knight of Time
Witch of Space
John Egbert
Rose Lalonde
Dave Strider
Jade Harley

ectoBiologist [EB]




ghostyTrickster [GT]

tentacleTherapist [TT]

turntechGodhead [TG]

gardenGnostic [GG]

Post-scratch
Kids

| | | | |
| --- | --- | --- | --- |
| Maid of Life | Rogue of Void | Prince of Heart | Page of Hope |
| Jane Crocker | Roxy Lalonde | Dirk Strider | Jake English |
| gutsyGumshoe [GG] | tipsyGnostalgic [TG] | timaeusTestified [TT] | golgothasTerror [GT] |

Post-scratch
Trolls

| | | | |
| --- | --- | --- | --- |
| Maid of Time | Page of Breath | Mage of Doom | Knight of Blood |
| Aradia Megido | Tavros Nitram | Sollux Captor | Karkat Vantas |
| apocalypseArisen [AA] | adiosToreador [AT] | twinArmageddons [TA] | carcinoGeneticist [CG] |
| Rogue of Heart | Sylph of Space | Seer of Mind | Thief of Light |
| Nepeta Leijon | Kanaya Maryam | Terezi Pyrope | Vriska Serket |
| arsenicCatnip [AC] | grimAuxiliatrix [GA] | gallowsCalibrator [GC] | arachnidsGrip [AG] |
| Heir of Void | Bard of Rage | Prince of Hope | Witch of Life |
| Equius Zahhak | Gamzee Makara | Eridan Ampora | Feferi Peixes |
| centaursTesticle [CT] | terminallyCapricious [TC] | caligulasAquarium [CA] | cuttlefishCuller [CC] |

Pre-scratch
Trolls
Cherubs

| | |
| --- | --- |
| Muse of Space | Lord of Time |
| Calliope | Caliborn |
| uranianUmbra [UU] | undyingUmbrage [uu] |

Guardians
Supporting
Characters
Sprites
Carapacians /
Exiles
Agents
Midnight Crew

The Felt

Denizens
Consorts
Underlings
Other
Black Queen · Black King · Skaian armies · Genesis Frog · Lusus · Ancestors (The Condesce) · Horrorterrors · Betty Crocker · Colonel Sassacre · Casey · Guy Fieri · Insane Clown Posse · Maplehoof · Rambunctious Crow · Halley · Serenity · MSPA Reader · Ms. Paint · Andrew Hussie · Sawtooth · Squarewave · His Honorable Tyranny · Calliope and Caliborn's parents · Angels · Canon fan trolls

EB/GT TT TG GG - GG TG TT GT - AA AT TA CG AC GA GC AG CT TC CA CC - UU uu
WV PM AR WQ WK - SS DD HB CD