Troll Teams
Talk

29
827pages on
this wiki
At the beginning of Hivebent, the twelve trolls were split into two teams to play Sgrub.
Initial Teams
Edit
The two troll teams were created by Sollux. Each team was given a leader, who then chose a group of five additional players for their team. These two teams were intended to be set up as a competition to see which team could win first, and maximize the odds that there were winners.
The red team members were those trolls who have dream selves on Prospit, and the blue team were those whose dream selves are on Derse, with the exception of Sollux, who has two dream selves, one for each of the two kingdoms. This is a clear reference to his duality theme, as the Gemini troll, but perhaps also would allow him, as the one who set the teams up, to "watch" both sides.
Mobius Double Reacharound
Edit
While the trolls originally believed they were creating two separate sessions, they slowly began to realize that they inhabited the same session the whole time. In the end, each team did not form its own loop. When it became time to bring the sixth player of each team into the Medium, the first player of the opposite team acted as their server host, thus connecting both teams into one loop

. Karkat considers himself the leader of this 12 person team. He calls this group Team Adorabloodthirsty due to yet another stable time loop.
Entry order
Edit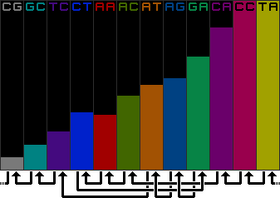 Within each team, the trolls obviously entered the Medium in the same order as their server connections. However, there is unsurprisingly overlap between the two teams, meaning that the entry order is as follows: Karkat → Terezi → Gamzee → Equius → Aradia → Nepeta → Tavros → Vriska → Kanaya → Eridan → Feferi → Sollux. It is quite clear, in fact, that it alternates between exactly one half of each team. Ordinarily, one player would have entered after their server (as Jade did after John), simply due to the chain being a closed loop. However, the splitting of the trolls into two teams resulted in two such players, namely Kanaya (after Equius) and Sollux (after Karkat).
The Trollian timeline display

incorrectly shows Aradia as having entered before Equius, i.e. the height of her grey bar is less than that of Equius's; however, it has been explicitly stated

that they entered in the expected order. Oddly enough though, this page

seems to suggest that the Black Queen was affected by the frogsprite before the prototyping from aurthoursprite took effect.