Tree stump
Talk

2
828pages on
this wiki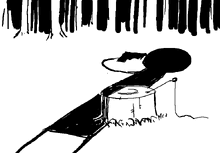 The Tree Stump makes appearances in Jailbreak, Problem Sleuth, and Homestuck. There seems to be some powerful cosmic magnetism towards suicide which surrounds the stump, facilitated by the presence of a pistol buried beneath it. Ace Dick makes use of the suicide tree stump at the very end of his Game of Life.
It also appears when the player has a bad reaction to a new update

.
It may be based on Shel Silverstein's Giving Tree.
Land of Stumps and Dismay
Edit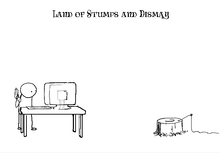 The Land of Stumps and Dismay

(abbreviated as LOSAD... so sad) is the Reader's planet in The Medium where the fabled tree stump resides. We, the readers, go there whenever we react badly to an update. The stump is conveniently close to our computer screen.