Tectrixcalibur/Tectrix of the Arbitor
Talk

0
827pages on
this wiki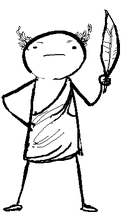 The legendary Tectrix of the Arbitor is a potent weapon that was given to Problem Sleuth by the Weasel King. It is the strongest diplomatic object in the universe. Unknown to PS until very late in the game, it is actually the innocuous double of the mighty sword Tectrixcalibur. It was intended to help solve The Plight of the Four Kingdoms, however it was never explicitly used, as the plight was instead solved through a cheat found on GameFAQs, in the Weird puzzle shit section. The Tectrix was later supplied to Pickle Inspector to even the score against Death in a scrum of Wizard's Sudoku, and allowed him to eventually complete the Labrynthine Sudocube Comprehsensile. Since then, the Tectrix had been held in Pickle Inspector's hat. The GameFAQS page from which the code is obtained reveals that the Tectrix of the Arbitor is used in conjunction with the Ink of Squid Pro Quo, discoverable only playing the Hatless Man.
It was nearly used by Pickle Inspector to counter Third-Form Demonhead Mobster Kingpin's advanced attack, "LV. 99 CODDLETECH: THORNSWOGGLE", by tickling the BRIER OF CRUELTY holding Problem Sleuth and Pickle Inspector. However, he botched it due to an Auto Fumble, and dropped the feather. Luckily, it was caught by Problem Sleuth and mysteriously transformed into the Tectrixcalibur. Problem Sleuth then used it to slice out of the Brier.
Much about the Tectrix are unknown. Even while dueling death in Wizard's Sudoku, it is never seen used. Presumably it was used to write on the cubes, but then again Pickle Inspector had not possessed the Ink of Squid Pro Quo, which would have made proper writing very difficult. Although it seems to have shown some of its power by turning into the Tectrixcalibur, this probably would only be useful for diplomacy purposes if it is Sleuth Diplomacy. Its true powers remain mysterious and elusive.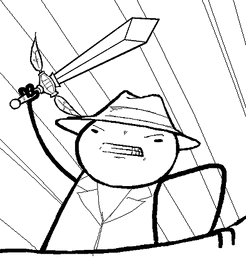 Tectrixcalibur is the weapon form of The Tectrix of the Arbitor, revealed only when Problem Sleuth takes hold of it. It is the strongest diplomatic weapon in the universe. The history and exact properties of the weapon are unknown, but it is powerful enough to cut through Demonhead Mobster Kingpin's Black Brier of Cruelty, and can cause a full health bar's worth of damage to him in one stroke with a direct attack, at least while used in tandem with Sepulchritude. He continues to use it in his final Combat Operandi, Final Flip Out. The weapon is now lost to the unknown, being that Problem Sleuth is no longer under the effects of Sepulchritude.