Talk:Nepeta Leijon
803pages on
this wiki
According to this page , arsenicCatnip has the same text color as Jade's pen pal. Just sayin'. JackAlsworth 19:44, June 16, 2010 (UTC)

You know, I'm surprised nobody seems to have latched onto CG calling AC 'Autistic'. That's the kind of thing WMGs are made of. --Kendrakirai 23:05, July 5, 2010 (UTC)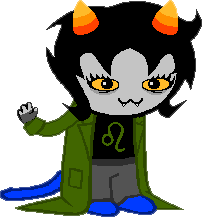 Added the waving picture :33
Supakillaii
21:36, September 18, 2010 (UTC)
Possible matespritship with Equius?
Edit
In the recent updates, more specifically [S] Equius: Seek the high100d, it was hinted that AC's and CT's relationship had become more flushed, mostly because snuggling had been mentioned, as well as the use of <3. (In other words, more like a normal relationship x33) Should this be added?

174.252.205.31 21:02, February 8, 2011 (UTC)

I've noticed that they've added the symbol on the new hoodie to Terezi's page, as she's the Seer of Mind, and the What Pumpkin store page for the hoodie says it's the symbol of "???, the ??? of Mind". I'm curious, as the other one says it's for "???, the ??? of Heart", and since Nepeta is the Rogue of Heart, if that should be added here. Just a thought. ReticentAltruist 04:52, October 28, 2011 (UTC)

I really don't get why Karkat calls Nepeta autistic. Normally, I wouldn't be bothered, but at this I am in curiosity and partly confusion. Is he just yelling things at her just because or is she technically autistic. I am asking this because I have Autism, and I do try to act like I cat because I love cats and I do rp a little bit. How exactly would they know what autism is? Their world is seperate from ours, and they don't have alot of things we have such diseases, wether they be mental or physical. E-TeensRule 21:11, June 13, 2012 (UTC)
What is up with her tail is it a real one or what? her dreamself doesn't have one... - 108.216.156.117
Nepeta's sprite
Edit
Shouldn't we add the Feferi-Nepeta sprite in the list?
I already have the picture.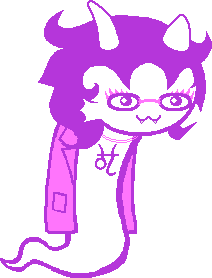 Occupation
Edit
Was it ever mentioned what kind of job Nepeta wanted, like how Karkat wanted to be a threshcutioner, or Terezi wanted to be a legislacerator? 184.58.51.217 15:16, March 17, 2013 (UTC)
Karkat callling Nepeta Autistic
Edit
It's worth noting that people with Autism also have a lot of similarities to cats in terms of personality and tendencies, all covered in the book All Cats Have Asperger Syndrome. I should know. I'm an aspie, myself, and I own the book. It's a very accurate statement.
--Cyberweasel89 (talk) 01:37, April 6, 2013 (UTC)
Left-handed!
Edit
In this page, it shows that Nepeta is left-handed! I was rereading Act Five Act One and noticed that and slightly fangirled because lefties are simply awesome. Just wanted to mention it in case it should be added!
Okay, I just got in an argument on Twitter over Nepeta's quirk prefix. I was reading the Typing Style section, and it doesnt mention her prefix changing at all, so I thought it never changed. I would have fixed this myself, but the pages are protected. May whoever has access fix this to prevent further confusion? Thanks.
184.56.53.3 20:58, October 20, 2013 (UTC)Concerned