Talk:Homestuck Kids
806pages on
this wiki
Midnight Crew Poster
Edit
In case anyone still believes that DMK's head appears in Dave's poster here is a
close up
decently sized thumbnail of it.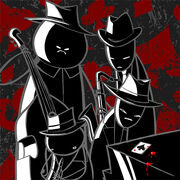 Whoever added that line most likely thought that Spade's piano was the hat/forehead.Koolkevk 16:50, 15 July 2009 (UTC)
Heh. He has another poster. You're not looking hard enough. It's on his right wall. It merely only shows DMK's hair in his third form. However, I think most people would recognize that poster and I suppose that could warrant as the actual poster for this article. Kbmr 17:22, 15 July 2009 (UTC)
Secondly, I'm glad you appreciate the article - I'm aware that the Wiki isn't as popular as some other sites that have been popping up (I don't frequent the forums much) but that is because it is exceedingly difficult to write about the things that are not cold hard facts in a Wiki. Speculation and conjecture are just that, and writing about tropes, metadata, and occurrences that show up elsewhere is fairly difficult to do within this format and to keep it proper. It's probable that I have pushed a few away due to my corrections of trying to keep the place squeaky clean. However, it is obvious enough to anyone paying a little bit attention that the story being done here is very purposeful that such things can be written about with there being little to no debate. 17:54, 15 July 2009 (UTC)
Ah, now I see it. The way the article was originally written, It sounded as if it meant they were both on the same poster. I'm sure we could include a mention of the second poster in a more clear manner, although if you wish to keep it out then I won't disagree.Koolkevk 03:11, 16 July 2009 (UTC)
I will keep it out. The Midnight Crew is one is more fitting and more obvious. Kbmr 13:17, 16 July 2009 (UTC)
Rose's Element
Edit
This could mention the waterfall? running through her house, in addition to it being rainy. I'd put it there myself, but I'm not sure that's 100% accurate and I'm too lazy to go look. wewt. Aryst0krat 03:47, October 15, 2009 (UTC)
Updates on the page
Edit
Kickass job on keeping this page tight. I can see a lot of attention is being paid to it. If anything, all this similarity shit will probably coincide with something at the end, so keeping it accurate may give us clues as to what may happen next by finding the obvious discrepancies.
I think it would be a nice compliment to the troll navbox to have one for our main characters. Homestuck Kids being the title and link to this page. Then a link for each child. I think it would be a nice addition, make this place a little bit classier. Loverdesang 02:56, July 14, 2010 (UTC)
John's Troll
Edit
Maybe at this point it's oversimple to say that each kid has one troll, since many of them talk to more than one -- but if we do, I think John's troll is GallowsCalibrator rather than CarcinoGeneticist. After all, GC threatened to cut his throat, and that's what made him change his chumhandle.
(By the way, the DNA base pairings don't seem to have any particular relevance to the kid-troll interactions; but if they did, guanine binds with cytosine and adenine binds with thymine, so we'd expect John (GT) to have a bond with CA, Rose to have a bond with AA, etc. As I said, this doesn't seem to be happening.) 65.183.153.101 03:21, March 5, 2010 (UTC)
Kid Titles
Edit
There are four titles mentioned first by Nanna in her letter to John. These are The "Heir of Breath" "Seer of Light" "Knight of Time" and "Witch of Space".
The Heir is John, the Questant refers to him as such. This is probably due to his guardian being his father. Breath is also relevant to Air being his element.
Rose is refered to as The Seer by both the Questant and the trolls. Seer could be to do with her pschoanalytical abilities, Light refering to The Kingdom of Light and Rain.
Dave is refered to as the Knight by the trolls. He is the most skilled combatant, and his weapon of choice is bladekind.
Through process of elimination, it is most probable that Jade is the Witch of Space. Her guardian, Bec, is seemingly capable of manipulating Time and Space at will, and could be her witch's familiar.
These are all mentioned in the articles of the individual characters, but not in this page. I think it should be added post-haste, though I wanted to confirm I wasn't missing anything major. Also, what would be the most appropreite heading name?
GruffyBears 20:45, March 17, 2010 (UTC)
Alternate Outfits
Edit
Is it too soon to talk about alternate outfits? John has his blue suit and Dave has acquired a white tux evidently, but the girls haven't gotten a wardrobe upgrade yet. --Gnauga 14:53, April 2, 2010 (UTC)
Relationships Tab
Edit
in my opinion all the kids pages should have a relationships tab. Every Troll has one, so why not the kids?
How should we handle character age ranges in infoboxes?
Edit
When the beta kids arrive in the alpha session, Homestuck will have covered a timeframe of 3 years, not counting Hivebent, flashbacks, the weeks alternate future Dave and dream Rose spent in a doomed timeline or other time shenanigans. IMO the infoboxes should cover characters' age ranges throughout the story's main timeframe (either as an age range, such as "13-16", or as a list of ages at specific points in the storyline, such as "13 (SBURB beta session), 16 (SBURB alpha session)") instead of only listing their ages at the most recent point in the story. -- Gordon Ecker (talk) 09:41, November 13, 2012 (UTC)
Every wikia I've seen for age uses the current age, some do note when a character loses their age at one point in time for one reason or another.

_

☮_

_

ƒelinoel

_

__ 14:24, November 13, 2012 (UTC)

It seems like a fairly common practice to me, at least for comic, animation and video game wikis. The Final Fantasy, Dragon Quest, Bleach, Naruto and One Piece wikis all handle timeskips by listing pre-timeskip and post-timeskip ages. -- Gordon Ecker (talk) 02:42, November 14, 2012 (UTC)
Element foreshadowing
Edit
The Alpha Kids all have their element foreshadowed in the second-to-last sentence of their introduction page. (http://www.mspaintadventures.com/?s=6&p=006364 Roxy's, for example: "To fill this VOID in your life.")
Is that important/interesting enough to warrant an addition, or did everyone know about it? 90.230.172.251 21:51, September 12, 2013 (UTC)
The word you're looking for is Aspect. Anyway yeah, it might be worth noting, even given how blatantly obvious it was in retrospect (especially with the gratuitous capitalization). I sure didn't see it on my first readthrough, though. Also of note (albeit way more subtle), all of their Classes are also mentioned in their intro pages! Aepokk Venset 00:14, September 13, 2013 (UTC)

Are you sure he meant aspect? If you recall there was a big human elements thing a while ago that I think got deleted because it was likely just coincidence.

_

☮_

_

ƒelinoel

_

__ 19:56, September 13, 2013 (UTC)

I know what that is. John-Air, Rose-Water, Dave-Fire, Jade-Earth, Jane-Helium, Roxy-Neon, Dirk-Krypton, Jake-Xenon. But this is all irrelevant, because if you'd read what the OP here said, "The Alpha Kids all have their element foreshadowed in the second-to-last sentence of their introduction page. (http://www.mspaintadventures.com/?s=6&p=006364 Roxy's, for example: "To fill this VOID in your life.")" I'm not seeing where the ambiguity lies, it's pretty clear they meant Aspects. Aepokk Venset 23:04, September 13, 2013 (UTC)
Day of creation
Edit
Should it be noted that all HS kids share the same day of creation (a few days after Johns entrance into the medium). This is seperate from their date of arrival which would be when their meteor crashed. The2ndplayer (talk) 18:25, January 5, 2014 (UTC)
Hmm, I can find no note of the ectobiology on the page so perhaps something should be added about it. On a minor note; John had been in the Medium less than a single day when he did the ectobiology, not several days. - The Light6 (talk) 23:51, January 5, 2014 (UTC)
On that note, this discussion prompted me into actually figuring out how much time passed from the start of Homestuck to [S] Descend; it was 8 hours. Well roughly, give or take half an hour.
Which on that note, since Homestuck began at around 4 pm in John's time zone, which means from the perspective of John (and his time zone) it was around midnight he did the ectobiology, which means depending on the exact timing he either did it on April 13th or 14, of course the obvious answer would be 13th. But regardless of John's time zone, it was definitely already April 14th for Dave and Rose. - The Light6 (talk) 15:08, January 6, 2014 (UTC)