Suitarangs
Talk

3
827pages on
this wiki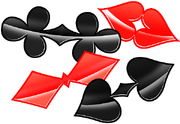 Suitarangs were created by Dave Strider when he combined a batarang and a Midnight Crew poster.
They are based on suits from a deck of cards. Each suitarang appears to be two of the same suit connected, in the case of the black suits, at the base, so that sharp point of the spades and the rounded part of the clubs are on the ends. It is impossible to tell if the diamonds are connected at the top or the base. The hearts are connected at the top, so that the sharp points on the bottom face out. The heart suitarang also resembles a pair of wax lips, Hearts Boxcars's most prized possession. They could also resemble a pair of Hunk Rumps. Dave has yet to be seen using them in combat, and may in fact never do so, as he specializes in close combat, and has trouble weaponizing his sylladex.
They cost 20 Build Grist and 4 Tar.
They are later seen in a large pile under a Crocodile here

, and then later on Dave is sleeping on them

.