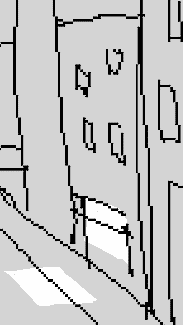 The Storefront was first introduced in the imaginary universe when it distracted
Problem Sleuth with a Window filled with light and music, later revealed to be a portal into the Hysterical Dame's Music box. The window's light soon went out, causing a monster to appear
in front of Problem Sleuth, getting him killed
.
Later, Ace Dick used the Storefront Portal to avoid falling to his death
, which consequentially shrank him
due to the size-warping capabilities of window portals.
The Music Box half was then sliced in half
by the Hysterical Dame, never to be used again.
Ad blocker interference detected!
Wikia is a free-to-use site that makes money from advertising. We have a modified experience for viewers using ad blockers

Wikia is not accessible if you've made further modifications. Remove the custom ad blocker rule(s) and the page will load as expected.