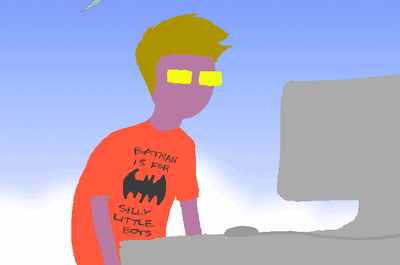 Ryanquest is a completely legitimate and in no way sarcastic or silly adventure starring Ryan North and Andrew Hussie, inspired by a comment North made on Dinosaur Comics. It is indisputably Andrew Hussie's magnum opus.
Ryanquest can be read here

.
Numerical data about Ryanquest are maintained here.
AH spies on Ryan, and records his tears. The day-to-day crying index forms a distinct pattern.
Ryan leaves his computer in an attempt to stay cool and dons his Hussie shirt and pink Batman cape.
He then peruses his Neighbourhood Map, which contains the directions to all the lawns with the best sleepin's. He decides on a good-looking lawn.
Ryan reaches the lawn, but is suddenly surprised by a Wild Resident staring out of the window! He prepares to engage in battle.
The Resident, however, does not wish to fight, and instead deposits a Hot Meal on the doorstep. This act of surrender makes Ryan feel a bit annoyed.
Ryan tucks into the hot meal, making his vitals soar. The adventure ends on this happy note.
The short comic The Vigil Prince also stars Ryan North and Andrew Hussie in an unusual situation.
Ad blocker interference detected!
Wikia is a free-to-use site that makes money from advertising. We have a modified experience for viewers using ad blockers

Wikia is not accessible if you've made further modifications. Remove the custom ad blocker rule(s) and the page will load as expected.