Not to be confused with Rufioh Nitram.
Rufio


Now she's done it. She has awoken the mighty inner fury that is... RUUUUUUUUUUUUUUUUUUUFIIIIIIIII
IIIIIIIOOOOOOOOOOOOOOOOOOOOOOO!

Relations

Tavros Nitram - The Real Fake
Andrew Hussie - Father Figure
Rufio is Tavros Nitram's personified self-esteem and imaginary best friend, but nothing more. Vriska Serket likes to remind him that Rufio is fake on a very frequent basis.
In the 1991 (Earth) movie Hook, Rufio, played by actor Dante Basco, is the leader of the Lost Boys while Peter Pan is away. In Homestuck, Tavros wishes he was "Pupa Pan", a character obviously reminiscent of Peter Pan, making the connection of Rufio and Tavros clearer. It is unknown if an Alternian equivalent of Hook in particular exists, however.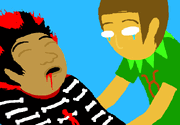 It was revealed much later that a human equivalent of Rufio had been on a long adventure with Andrew Hussie. Lil Cal apparently had sold out Hussie and Rufio to join Captain Hook some time during this adventure. The moment the narrative joined their quest, however, Rufio was stabbed through the chest by Hook, mirroring the climax of the movie Hook. Though Hussie moved quickly in an attempt to revive him

, Rufio had no dream self and the kiss was deemed STUPID.
Tavros's ancestor was thereafter revealed by Vriska reading through her ancestor's old journal. He was a powerful psychic troll that communed with animals far and wide, known only as the Summoner. The Summoner sports a pompous hairstyle with red streaks in it, clearly based on Rufio's, as well as wings that allow him to fly, similar to the Lost Boys of Neverland. His pre-scratch counterpart shares his appearance and happens to be named Rufioh, and types like Dante Basco does on his Tumblr. Upon Vriska meeting him, she quips to Tavros that she was still right about Rufio being fake because "[he isn't] spelling it right"

.
Real Life
Edit
Dante Basco, who has voice acted Zuko from Avatar: The Last Airbender, General Iroh from The Legend of Korra, and Jake Long from American Dragon: Jake Long since Hook, became an avid Homestuck reader since joining the social media platform Tumblr. Homestuck fans quickly informed him about Rufio's role as a character in Homestuck, causing him to take a look into the series.
Andrew Hussie reacted sporadically to this surprising news and temporarily added the message "HELLO DANTE" to the navigation bar to ensure he was welcome and encourage him to keep reading. Dante and Hussie have since become decently close online friends, attracted to each others' personalities. Upon reaching the milestone of human Rufio's appearance in Homestuck, Hussie "reblogged" one of Dante's incredibly confused reactions to the absurd scene. He did not, however, charge him $100,000,000.
Homestuck Characters

v

·

d

·

e

Pre-scratch
Kids

Heir of Breath
Seer of Light
Knight of Time
Witch of Space
John Egbert
Rose Lalonde
Dave Strider
Jade Harley

ectoBiologist [EB]




ghostyTrickster [GT]

tentacleTherapist [TT]

turntechGodhead [TG]

gardenGnostic [GG]

Post-scratch
Kids

| | | | |
| --- | --- | --- | --- |
| Maid of Life | Rogue of Void | Prince of Heart | Page of Hope |
| Jane Crocker | Roxy Lalonde | Dirk Strider | Jake English |
| gutsyGumshoe [GG] | tipsyGnostalgic [TG] | timaeusTestified [TT] | golgothasTerror [GT] |

Post-scratch
Trolls

| | | | |
| --- | --- | --- | --- |
| Maid of Time | Page of Breath | Mage of Doom | Knight of Blood |
| Aradia Megido | Tavros Nitram | Sollux Captor | Karkat Vantas |
| apocalypseArisen [AA] | adiosToreador [AT] | twinArmageddons [TA] | carcinoGeneticist [CG] |
| Rogue of Heart | Sylph of Space | Seer of Mind | Thief of Light |
| Nepeta Leijon | Kanaya Maryam | Terezi Pyrope | Vriska Serket |
| arsenicCatnip [AC] | grimAuxiliatrix [GA] | gallowsCalibrator [GC] | arachnidsGrip [AG] |
| Heir of Void | Bard of Rage | Prince of Hope | Witch of Life |
| Equius Zahhak | Gamzee Makara | Eridan Ampora | Feferi Peixes |
| centaursTesticle [CT] | terminallyCapricious [TC] | caligulasAquarium [CA] | cuttlefishCuller [CC] |

Pre-scratch
Trolls
Cherubs

| | |
| --- | --- |
| Muse of Space | Lord of Time |
| Calliope | Caliborn |
| uranianUmbra [UU] | undyingUmbrage [uu] |

Guardians
Supporting
Characters
Sprites
Carapacians /
Exiles
Agents
Midnight Crew

The Felt

Denizens
Consorts
Underlings
Other
Black Queen · Black King · Skaian armies · Genesis Frog · Lusus · Ancestors (The Condesce) · Horrorterrors · Betty Crocker · Colonel Sassacre · Casey · Guy Fieri · Insane Clown Posse · Maplehoof · Rambunctious Crow · Halley · Serenity · MSPA Reader · Ms. Paint · Andrew Hussie · Sawtooth · Squarewave · His Honorable Tyranny · Calliope and Caliborn's parents · Angels · Canon fan trolls

EB/GT TT TG GG - GG TG TT GT - AA AT TA CG AC GA GC AG CT TC CA CC - UU uu
WV PM AR WQ WK - SS DD HB CD