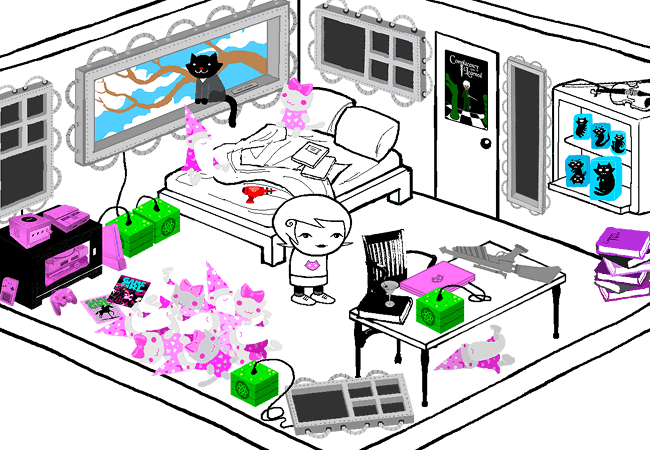 Roxy's room is a location in Homestuck. As evidenced by the name, it is where Roxy Lalonde resides. The room contains several Fenestrated walls over various types and sizes, plugged into Skaianet hubs (for purposes not fully understood as of now). One of the fenestrated walls seems to act as a normal window, while another seems to be used as a TV for her numerous retro game consoles (all in hot pink). Vodka Mutini and several mutated Jaspers clones rest on shelves, encased in a blue substance. On top of said shelves rests a violin. Piles of books and Wizard/kitty plushes can be found on the floor.
On Roxy's door there is a poster of post-scratch Rose's book "Complacency of the Learned". A rifle similar to the one wielded by pre-scratch Mom can be found lying on her desk, next to her pink laptop, powered by another hub. One of the fenestrated walls resembles the window in Ace Dick's office. Her sheets are also the only ones out of the post-scratch kids to have no clear affiliation. They are blank, while Jane's, Jake's, and Dirk's all have some reference to something in the MSPA Universe. This is likely because Rose's bed sheets were blank as well.
Ad blocker interference detected!
Wikia is a free-to-use site that makes money from advertising. We have a modified experience for viewers using ad blockers

Wikia is not accessible if you've made further modifications. Remove the custom ad blocker rule(s) and the page will load as expected.