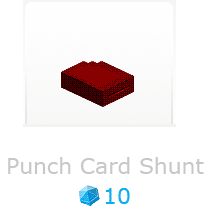 The Punch Card Shunt is an item that costs 10 build grist to create, and seems to become available in the Phernalia Registry for all server/client connections after the first, along with the Jumper Block Extension and CD.
Dave seems to believe they are useless unless used in conjunction with the Jumper Block Extension. This proves to be true. By putting a punched card into a Punch Card Shunt and attaching it to a Jumper Block Extension which is in turn connected to an Alchemiter, the player is able to "upgrade" the Alchemiter. So far Dave has found many useful upgrades; after trying a Blender and a GameBro Magazine, which render the Alchemiter completely useless, he manages to add the functions of the Punch Designix, Holopad, Totem Lathe, and even the Jumper Block Extension to it using Jade's Pictionary modus' ghost picture function. It therefore becomes a one-stop alchemy machine, where one can punch cards, see what an inserted cards' totem will be (holopad), scan it, and make the item from it as well as add more extensions by just putting a punched card in a slot. Adding the holopad upgrade without the Totem Lathe upgrade turns the totem platform into a hologram projector which projects what the inserted punched card will make, making the Alchemiter otherwise useless.
Ad blocker interference detected!
Wikia is a free-to-use site that makes money from advertising. We have a modified experience for viewers using ad blockers

Wikia is not accessible if you've made further modifications. Remove the custom ad blocker rule(s) and the page will load as expected.