A QUEST OF FUTILITY THEN.
This page may not be done in a while - or ever, until the game that this page is related to has been beaten.

Please keep coming back to and updating it.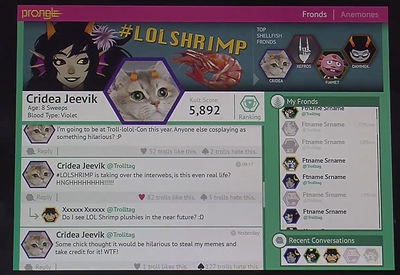 Prongle is an Alternian social network, and has been described as "Facebook with a touch of Twitter and a sprinkle of Tumblr." In Hiveswap it appears that you can communicate through it with "Fronds" and "Anemones". It appears to function more or less the same as Twitter, with hashtags and short posts, but alongside sharing, users can "like" or "hate" tweets, with heart and spade symbols respectively, as opposed to favoriting them. Prongle will be used to communicate with the various NPC trolls in the game - which ones you keep in touch with and how you interact with them will affect the story.
Hiveswap and Hauntswitch

v

·

d

·

e

Playable Kids
Joey Claire · Jude Harley
Playable Trolls
Xefros Tritoh · Dammek
Supporting Humans
Babysitter · Pa Harley · A. Claire · Mysterious Cult
Supporting Trolls
Trizza Tethis · Xultan Matzos · Dromed Baktar
Troll Call Trolls
Zebede Tongva · Tyzias Entykk · Mallek Adalov · Daraya Jonjet · Barzum Soleil · Baizli Soleil · Nihkee Moolah · Chahut Maenad · Diemen Xicali · Skylla Koriga · Folykl Darane · Kuprum Maxlol · Charun Krojib · Amisia Erdehn · Polypa Goezee · Tegiri Kalbur · Tirona Kasund · Lynera Skalbi · ?????? Elwurd · Galekh Xigisi · Vikare Ratite · Boldir Lamati · Cirava Hermod · Tagora Gorjek · Ardata Carmia · Marvus Xoloto · Fozzer Velyes · Stelsa Sezyat · Wanshi Adyata · Bronya Ursama · Chixie Roixmr · Zebruh Codakk · Azdaja Knelax · Konyyl Okimaw · Who Is This? · Marsti Houtek · Lanque Bombyx · Remele Namaaq
Other
Tesseract · The Lone Gunbirds · Green shadow monsters · Imperial Drone · Zoosmell · Cornibuster ·

D

o

c Scratch

Concepts
Troll · Extended Zodiac · Cherub Portal · Abilitech · Prongle · Scythian · Achievements
Locations (Earth)
Hauntswitch · Half-Harley Manor
Locations (Alternia)
Outglut · Dammek's hive · Xefros' hive
Acts
Hiveswap: Act 1
Additional Media
Hiveswap Friendship Simulator (Vol. 1 · Vol. 2 · Vol. 3 · Vol. 4 · Vol. 5 · Vol. 6 · Vol. 7)