Paradox Clone
Talk

6
828pages on
this wiki
DO THE POTTED VEGETABLE INSTEAD.
IT LOOKS DELICIOUS.
Pipe down, you. This is the editors' decision, not yours!

Either way, this page could probably be merged with Ectobiology.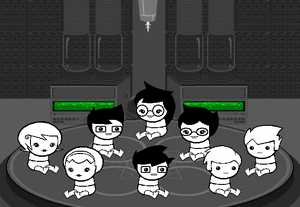 A paradox clone is a clone formed through Ectobiology from a Paradox Ghost Imprint, which is the result of trying and failing to bring someone forward in time. The clone ends up going back in time again to become the original target of the appearifier. Kanaya explains this to Jade during one conversation

. John creates paradox clones of Nanna, Grandpa, Mom, and Bro in the Ectobiology Lab in the Veil.
In the lab near her house, Rose finds and names Mutie, which an imperfect cloning machine created from the paradox ghost imprint of Jaspers. Since failed paradox clones have strange mutations, Mutie has extra eyes. Only a perfect paradox clone can become itself; in fact, such a clone is guaranteed to do so.
When John attempts to appearify the ghost slime of Nanna, Grandpa, Bro and Mom from the 1st, 3rd, and 4th of December 1995 and the 13th of April 1996, respectively, their ghost imprints are created and sucked into four cylinders on a perfect-cloning machine. The imprints are analyzed for their DNA code, which is used to make the four as babies. The imprints are then combined and redivided into John and Jade (siblings) and Rose and Dave (siblings). This is part of a sequence prepared by Dad, Grandpa, Mom, and Bro themselves (although this detail was unseen). John executes the sequence creating, in total, eight babies.
Via the same process, Karkat created twenty-four wigglers

. Because of this, it is presumed that the session leaders are usually responsible for creating the Paradox Clones. Certain elements of how he did so are not known yet, such as which supposed other two trolls created their genetic offspring alongside each one's dancestor, or which generations were perfectly cloned or bred from biological parents.
Successful paradox clones of players and potential players are taken to their planets on meteors during the Reckoning, where they crash land at various locations and times (which are considered their birthdays).
This offers one possible explanation for the players' and their guardians' powers; being cloned from themselves, any abilities could essentially come out of nowhere.
Hussie made some kind of error: All of the babies' legs, as well as one of Rose's and one of Roxy's eyes, are grey as opposed to black.
It is unknown if the ectobiology process for the trolls would actually create "siblings" among the genetically-combined players or if it would tamper with their mating processes, as it already concerns them taking part in an "incestuous slurry".