Ad blocker interference detected!
Wikia is a free-to-use site that makes money from advertising. We have a modified experience for viewers using ad blockers

Wikia is not accessible if you've made further modifications. Remove the custom ad blocker rule(s) and the page will load as expected.
Nicolas Cage was a famous American actor, son of August Coppola and nephew to Francis Ford Coppola; known for his roles in the films Raising Arizona, Face/Off, National Treasure, and many more. He also notably played the lead role of ex-convict Cameron Poe in one of John Egbert's favorite B-movies, Con Air (a film which John appeared in himself due to weird plot shit

). He is one of John's idols and Vriska Serket's love interests. After viewing him as a street tough maverick with nothing to lose

, Vriska builds a shrine to his name.
He was assumed to have been killed with the rest of the population of Earth during The Reckoning, though Andrew Hussie swears that he had, in fact, ascended to god tier shortly before the apocalypse, thus fulfilling his role as the Nick of Time.
Con Air is referenced many times throughout Homestuck, mainly through the use of John's birthday present, which happens to be the original stuffed bunny from the movie. The ending scene of Con Air, in which Poe reunites with his loving wife and daughter, was acted out

in Homestuck, with John playing the role of Cameron Poe. The climax of the movie in which Poe warns an antagonist, Billy Bedlam, to "put the bunny back in the box" has also been referenced.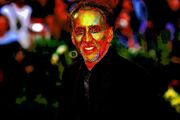 Another memetic phrase in Homestuck is uttered by Nicolas Cage in the film Snake Eyes. His character, Rick Santoro, says to a close friend from the US Navy, Kevin Dunne, that despite being on duty as a bodyguard, he was viewing a nearby woman's breasts, inferring that part of the plan was "to give you a boner, and you got one". A memory splinter of Dirk Strider spouts the line to a dreaming Jake English, attempting to convince him that he has control over Jake's body.
The end of the Flash animation, [S][A6I1] Karkat: Mental breakdown

contains a link to an Easter Egg

, citing the first appearance of Dark Cage, an unsettling palette swap of Nic Cage, while reciting the "boner" line with the pitch drastically decreased. The page was created because the song used in the Flash, Frustracean by Toby "Radiation" Fox, features an awkward two minutes of silence, followed by the "boner" clip, mimicking the similar ending of its sister song, Hardlyquin. At the ending to [S] Terry: Fast forward to Liv.

, a link to the second Dark Cage Flash

appeared. This time, a drastically slowed down version of Michael Guy Bowman's cover of I Don't Want to Miss a Thing, followed by a lowered, eldritch "put the bunny back in the box" quote. On this page

attempting to hit the play again button in the bottom left corner will result in it jumping around on the screen each time you try to touch it, until it finally turns into Cage's face and the "boner" clip is played once you click it. The final flash that has been found is located here

, upon clicking the back-arrow enough times, similarly to the previous one.
In Real Life
Edit
Nicolas Cage functions primarily the same outside of Homestuck, but was not struck by any meteors nor ascended to god tier on April 13th, 2009, at least as far as we know. He originally kickstarted his acting career primarily in comedies and romantic dramas, but has leaned towards landing roles in action films in recent decades, despite receiving some harsh criticism for it. He has taken steps into transitioning into the directing role as well, lately, much like August and Francis before him.
Homestuck Characters

v

·

d

·

e

Pre-scratch
Kids

Heir of Breath
Seer of Light
Knight of Time
Witch of Space
John Egbert
Rose Lalonde
Dave Strider
Jade Harley

ectoBiologist [EB]




ghostyTrickster [GT]

tentacleTherapist [TT]

turntechGodhead [TG]

gardenGnostic [GG]

Post-scratch
Kids

| | | | |
| --- | --- | --- | --- |
| Maid of Life | Rogue of Void | Prince of Heart | Page of Hope |
| Jane Crocker | Roxy Lalonde | Dirk Strider | Jake English |
| gutsyGumshoe [GG] | tipsyGnostalgic [TG] | timaeusTestified [TT] | golgothasTerror [GT] |

Post-scratch
Trolls

| | | | |
| --- | --- | --- | --- |
| Maid of Time | Page of Breath | Mage of Doom | Knight of Blood |
| Aradia Megido | Tavros Nitram | Sollux Captor | Karkat Vantas |
| apocalypseArisen [AA] | adiosToreador [AT] | twinArmageddons [TA] | carcinoGeneticist [CG] |
| Rogue of Heart | Sylph of Space | Seer of Mind | Thief of Light |
| Nepeta Leijon | Kanaya Maryam | Terezi Pyrope | Vriska Serket |
| arsenicCatnip [AC] | grimAuxiliatrix [GA] | gallowsCalibrator [GC] | arachnidsGrip [AG] |
| Heir of Void | Bard of Rage | Prince of Hope | Witch of Life |
| Equius Zahhak | Gamzee Makara | Eridan Ampora | Feferi Peixes |
| centaursTesticle [CT] | terminallyCapricious [TC] | caligulasAquarium [CA] | cuttlefishCuller [CC] |

Pre-scratch
Trolls
Cherubs

| | |
| --- | --- |
| Muse of Space | Lord of Time |
| Calliope | Caliborn |
| uranianUmbra [UU] | undyingUmbrage [uu] |

Guardians
Supporting
Characters
Sprites
Carapacians /
Exiles
Agents
Midnight Crew

The Felt

Denizens
Consorts
Underlings
Other
Black Queen · Black King · Skaian armies · Genesis Frog · Lusus · Ancestors (The Condesce) · Horrorterrors · Betty Crocker · Colonel Sassacre · Casey · Guy Fieri · Insane Clown Posse · Maplehoof · Rambunctious Crow · Halley · Serenity · MSPA Reader · Ms. Paint · Andrew Hussie · Sawtooth · Squarewave · His Honorable Tyranny · Calliope and Caliborn's parents · Angels · Canon fan trolls

EB/GT TT TG GG - GG TG TT GT - AA AT TA CG AC GA GC AG CT TC CA CC - UU uu
WV PM AR WQ WK - SS DD HB CD