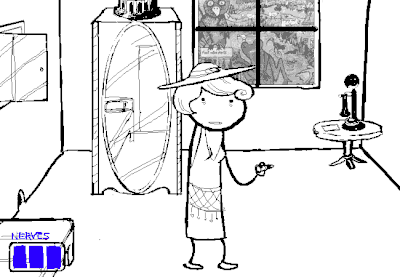 Nerves are the measurement of Nervous Broad's sanity level. Compared to the hysteria meter of Hysterical Dame, nerves are much easier to max out, but also much more easily placated - either by a knife or a bunch of Fancy Santas. However, the effect is quite similar: a boost in attack power, but also a general loss of any self-control. Nerves can eventually be overcame by relaxing for a while, enjoying the scene of your Fancy Santa, or by overcoming your Nerves and handling your troubles head on. Nervous Broad soon calms down quite a lot, and her Nerves are rendered more or less moot.
Ad blocker interference detected!
Wikia is a free-to-use site that makes money from advertising. We have a modified experience for viewers using ad blockers

Wikia is not accessible if you've made further modifications. Remove the custom ad blocker rule(s) and the page will load as expected.