Ministrife
Talk

10
806pages on
this wiki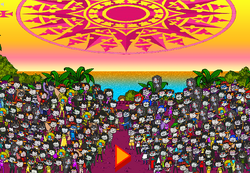 The ministrife, titled in Homestuck as [S][A6I3] MINISTRIFE!!!

, is an interactive Flash.
Vriska Serket and Meenah Peixes begin to battle after Meenah invites Vriska to her army and Vriska invites Meenah to her pirate adventure. Andrew Hussie is seen bobbing up and down in the background throughout the entire flash. Vriska and Meenah continually one-up each other and summon more allies, sometimes summoning the descendants and ancestors of members from the other person's team, causing COMPLETE mayhem. They both agree to the terms that if one or the other wins the fight, one will have to join the other's "team" and help with their plans to defeat L

rd English. However, just before Vriska and Meenah begin to fight, Calliope interrupts. This flash shows all of the ancestors and their typing quirks. Later on in Act 6 Intermission 5, it is shown that an army is under control of both Meenah and Vriska, implying the fight ended with a draw.
Also, it is implied that the strife was pretty much completely useless.
An unofficial fan trascript is available here on Pastebin.
The characters wear the following outfits:
Character
Default outfit and variants
Dream self
God tier
Other outfits
John
No
No
Yes (alive)
No
Aradia
No
No
Yes (alive)
Aradiabot
Tavros
Yes
Yes

Boy Skylark / Pupa Pan
Fairy dress

Sollux

3D glasses
Feferi's goggles, ghost eyes
No glasses, ghost eyes
No glasses, 2D / half-dead eyes

No
No
Karkat
Yes
Yes
Yes (no wings)
No
Nepeta

Hat
Hatless
Hatless with Equius's shades

Yes
No
No
Kanaya
Yes
Yes
No

Black & white dress
Pink dress
Green dress
Red dress
Blue dress

Terezi

Regular
Without glasses
Dave's t-shirt
Dragonsuit cloak

Yes
No

Legislacerator / Redglare costume.

Vriska
Yes
No
Yes
Ancestral Awakening outfit / Mindfang costume.
Equius

Regular
Nepeta's hat and no shades

Yes
No
Maid outfit
Gamzee
No
No
Yes (alive)
No
Eridan

Scarf, no cape
Scarf, cape, wand, wizard hat and normal eyes1
Scarf, cape, Trollian shades

Yes
Yes
March Madness
Feferi

Regular
With Dad Egbert's lost fedora

Yes
Yes
No
Damara
Yes
Yes
Yes

Seifuku / schoolgirl outfit
Sailor Moon cosplay

Rufioh
Yes
Yes
Yes

Tuxedo Mask cosplay.
Horsebody!Rufioh.

Mituna

Holding skateboard
No helmet

Yes
Bee costume
Kankri

With sweater
Without sweater

Yes
Yes (no wings)
Wiggler pyjamas
Meulin

Regular
With Horuss's mask

Yes
Yes
Cat sweater
Porrim
Yes
Yes
Yes
Black EGL dress
Latula

Without skateboard
With skateboard

Yes
Yes
No
Aranea
Yes
Yes
Yes
Blue coat
Horuss
Yes
Yes
Yes
Horse costume
Kurloz
Yes
Yes
Yes
"Hamlet" / "princely" / "theatrical" outfit
Cronus

Without jacket
With jacket

No
Yes
No
Meenah
Yes
No

Default / unmodified
Crop top, necklace, bracelets, no hood or cape
Tank top, shorts, green tights, no hood or cape
Green shirt, dark beige vest, light beige pants, no hood or cape
Baggy / oversized t-shirt, green sash, no hood or cape

No
These instances of normal eyes are probably mistakes.