Matriorb
Talk

0
828pages on
this wiki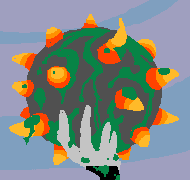 A greyish ball covered in what appears to be Troll horns. Found in the abdomen of Kanaya Maryam's Lusus, a Virgin Mother Grub. It must be protected and used to hatch another Mother Grub. It's not as likely to prove a plot-centric device as it was hinted to. It's practically covered in Weird Plot Shit. Kanaya planned to use it to save the troll race after the completion of Sgrub. She safely stored the orb in her Chastity Modus, which prevented it from being removed until the timing was exactly right.
After the Trolls fled to the veil, Kanaya finds the key to unlock the Matriorb from its card. This makes her realize that she is supposed to hatch the new Mother Grub in the center of the asteroid, and not in the new universe, as she had previously assumed. The orb is later destroyed by Eridan Ampora, seemingly leaving the troll race doomed to extinction. However, this leaves the question of why she found the key when she did, and why it released the matriorb only to be destroyed.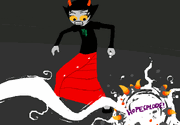 She has possibly used it in alchemizations, as she is later seen

wielding a chainsaw with troll horn teeth. It can also be used to make Jane's hat along with Charles Dutton's Dream Bubbles book and a pot plant.

This also leaves open the possibility of alchemizing a new Matriorb, which Kanaya later says would cost too much grist to make but she is willing to try and gain enough to alchemize a new matriorb.