Magic Cue Ball
Talk

1
828pages on
this wiki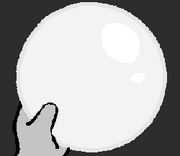 The Magic Cueball is an item in Homestuck. Unlike a classic Magic 8-Ball, it always reveals the truth to its owner and makes predictions with alarming precision and specificity. Unfortunately, and also unlike a Magic 8-Ball, it lacks a portal on its surface that allows you to view the prediction. Because of its opaque surface, only those with some sort of enhanced vision

can receive answers from the item. In Hivebent, it is revealed that Vriska Serket was in possession of a Magic Cue Ball in the past and was able to receive answers from it to help her strategize against her opponents in Flarp. Her VISION EIGHT-FOLD could see through the surface of the ball, revealing the prediction concealed within. It is implied in Mindfang's diary that she and The Expatri8 were the previous owners of this ball.
Apparently, the cue balls were previously owned by Doc Scratch, and are one of the few exceptions to his omniscence. As part of the Troll's chain of revenge, for killing Aradia, Terezi revealed to Scratch that Vriska was in possession of one, causing him to lose his characteristic cool and detonate it in her face, costing her an arm and her vision eightfold. In return, she performed a double psychic reach-around and forced Terezi to stare at the Alternian sun, blinding her.
As of yet, the only known Magic Cue Ball on Earth is owned by Jade. Her copy

seems like a cheap toy, though since this is Jade it is definitely the real deal. It was a gift from her Grandpa along with the rest of her fortune-telling knick-knacks. A copy of the ball is present in Jade's dream room on the moon of Prospit but is presumably destroyed when the moon crashes down onto The Battlefield at the end of Act 4. (However, and this is pure speculation, it may have been picked up by Jade's Grandpa and brought back to Earth along with Jade's dead dream self, becoming the original Magic Cue Ball in the first place.)
Rose somehow obtains one that they assume used to belong to Jade, after a consort brings it to her. Doc Scratch indirectly tells Rose that she is able to see the responses by means of her powers as the Seer of Light. According to Doc Scratch, the Magic Cue Ball is one of his 'seeds'. Later, Meenah finds a dream bubble replica in a chest and wonders if it is a juju.