Home
Talk

31
1,074pages on
this wiki
ACT 6 ACT 6 ACT 5 Countdown
A6A6A5 begins.
Welcome to MS Paint Adventures Wiki
The wiki about MS Paint Adventures, and other
works of Andrew Hussie, that anyone can edit.
1,074 articles since December 2008
---
---
USEFUL LINKS
Featured Article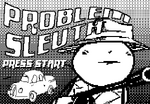 Problem Sleuth is the third MS Paint Adventure. Initially a parody of detective noir stories, though quickly abandoning that premise in favor of stranger and wackier plot directions, the adventure tells the story of Problem Sleuth, Ace Dick and Pickle Inspector, three competing private detectives who operate out of neighboring offices in the same building. When all three become trapped inside their respective offices, they join forces to find a way out of their predicament and defeat the evil Mobster Kingpin, who possesses the key they need to leave their building.
Problem Sleuth debuted on March 10, 2008, relaunching MS Paint Adventures after the abandonment of Bard Quest eight months earlier caused the site to be shut down indefinitely. Exactly one year later, on March 10, 2009, the central storyline reached its conclusion, and, after the release of an additional epilogue chapter, Problem Sleuth ended on April 7 with a total of 1,673 pages.
Read the full article here.

---
What's new on the MSPA Wiki
February 17th – Hiveswap is nigh.
Done relatively under the radar, promotional content for Hiveswap has begun cropping up on the web. This includes a twitter account and an official website. Both sources announce that the first of four installments of Hiveswap, "Act 1", will arrive in Spring 2015. The other three are scheduled for release throughout the year, but this appears less concrete. The website contains some brand new screenshots and concept art from the game, as well as a press release, confirming the upcoming press preview of the game at next month's Game Developer's Convention in San Francisco, followed by public demos at several spring conventions. Check out the website yourself for more info!
---
February 9th – Congratulations to Ylimegirl!
One of our finest editors has been promoted to moderator! Long overdue, really, I think we can all agree.
---
January 20th – PAUSE OF INDETERMINATE NAME
A news post of moderate length, fun to read as always, has been added to the site. A6A6A5 is actually done, but it's so completely awesome that Hussie thinks we can't handle it yet, especially if it'd leave us hanging until the next pages after it come out in three months.
Speaking of which, the rest of the story, as previously mentioned, has been written in its entirety, Hussie simply needs to start drawing the panels. That, on top of responsibilities relating to the development and production of Hiveswap, means he needs to take quite the break to catch up. So when can we expect the comic to return? 4/13, naturally. Until then, have fun being productive!
---
January 7th – CRITICAL HORSE ADJUSTMENT
A brief news post has been added to the website: due to the combination of previously laid out updates, A6A6I4 will end on January 19th, as opposed to the initially planned January 26th. Looking forward, Hussie has stated that he has mostly written everything that comes after that, but he's still working on it, as he has not yet begun drawing. This means we will almost certainly be seeing a pause after the 19th, but it's currently unclear how long that will be.
---
January 1st –

the NEWD YEAR... agagin
Sadly, the new MWF schedule of Homestuck precluded there being an update on New Year's Day itself. As such, anyone who was hoping for the customary event of some form of ball drop in the comic is doubtless disappointed.
You could say... Hussie dropped the ball there. HE HE HE.
---
Helping out
Not sure where to start?
Find out more about the wiki on the About page.
If you are new to wikis you may wish to check out Wikia Basics, and see Help:Contributing to learn more about contributing.
Adding and cleaning-up content
There are many articles that need improvement, you can help by adding content to "Stubs" or by a work over on messy pages. You can check the list of projects for more ideas. Don't be shy, get in there.
If you are unsure how to arrange or write content, the Manual of Style may be of assistance.
You can find a list of useful templates on Category:Templates, some of which are documented on the templates project page.
Talk and more...
Contents
Websites
Adventures
Characters (Homestuck)
Characters (Problem Sleuth)
Locations (Homestuck)
Locations (Problem Sleuth)
Inventory (Homestuck)
Inventory (Problem Sleuth)
Concepts