Welcome to MS Paint Adventures Wiki
The wiki about MS Paint Adventures, and other
works of Andrew Hussie, that anyone can edit.
1,294 articles since December 2008
---
---
USEFUL LINKS
Featured Article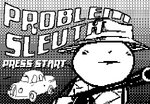 Problem Sleuth is the third MS Paint Adventure. Initially a parody of detective noir stories, though quickly abandoning that premise in favor of stranger and wackier plot directions, the adventure tells the story of Problem Sleuth, Ace Dick and Pickle Inspector, three competing private detectives who operate out of neighboring offices in the same building. When all three become trapped inside their respective offices, they join forces to find a way out of their predicament and defeat the evil Mobster Kingpin, who possesses the key they need to leave their building.
Problem Sleuth debuted on March 10, 2008, relaunching MS Paint Adventures after the abandonment of Bard Quest eight months earlier caused the site to be shut down indefinitely. Exactly one year later, on March 10, 2009, the central storyline reached its conclusion, and, after the release of an additional epilogue chapter, Problem Sleuth ended on April 7 with a total of 1,673 pages.
Read the full article here.

---
What's new on the MSPA Wiki
December 3, 2017 – Week in review, featuring zodiac signs and book stuff
The Hiveswap website was updated with a new look and a new feature: The Extended Zodiac, the new 288-sign zodiac created for the game's trolls. A personality test on the site will determine your sign, as well as your lunar sway (Propsit or Derse dream affiliation) and aspect. Some interesting new Homestuck lore is in here, plus it appears we will "probably" get a class quiz at some point in the future. If you're really in love with your new zodiac sign, you can now buy a t-shirt of it at For Fans By Fans.
Quest for the Missing Spoon met its Kickstarter funding goal, but the campaign runs until December 17, so you still have time to claim your official SBaHJ dunce cap and barbecue sauce.
The Amazon listings for Viz Media's first two Homestuck books have been updated with preview pages. Acts 1 to 3 appear to be mostly identical to their treatment in the original TopatoCo books, but we get our first glimpse at how the Intermission will be presented in print. Book 1 (Acts 1 & 2) releases April 13, 2018, while Book 2 (Act 3 & Intermission) comes out on July 10.
---
November 17, 2017 – Kickstarter 2: Electric Boogaloo
The kickstarter for Sweet Bro and Hella Jeff and the Quest for the Missing Spoon has launched! (Apparently Andrew Hussie has dipped his toes into the lucrative fidget spinner market. I'd say I'm disappointed, but after reading the latest SBaHJ comic yesterday, I'm mostly just numb.) Anyways, if you're interested in this sort of thing, go back it!
---
November 16, 2017 – New Sweet Bro and Hella Jeff project in the works
Sweet Bro and Hella Jeff updated yesterday with some EXTREMELY NSFW new strips, but ever since Homestuck ended Andrew Hussie has been teasing the existence of a bigger project starring the duo. Today, that project may have been revealed: TopatoCo's crowdfunding fulfillment division Make That Thing has posted what appears to be the cover of a new book, Sweet Bro and Hella Jeff and the Quest for the Missing Spoon. Hussie, dril, and KC Green are the creative team behind this tome, with more information apparently "COMIGN SOON."
---
November 11, 2017 – Hiveswap: Act 2 releases spring 2018
To mark this year's 11/11, What Pumpkin has announced that the second act of Hiveswap will be released next spring. As part of the lead-up to release, the What Pumpkin Tumblr will be doing a weekly "Troll Call" every Wednesday, releasing bios of new trolls from the game.
Helping out
Not sure where to start?
Find out more about the wiki on the About page.
If you are new to wikis you may wish to check out Wikia Basics, and see Help:Contributing to learn more about contributing.
Adding and cleaning-up content
There are many articles that need improvement, you can help by adding content to "Stubs" or by a work over on messy pages. You can check the list of projects for more ideas. Don't be shy, get in there.
If you are unsure how to arrange or write content, the Manual of Style may be of assistance.
You can find a list of useful templates on Category:Templates, some of which are documented on the templates project page.
Talk and more...
Contents
Websites
Adventures
Games
Characters (Homestuck)
Characters (Hiveswap)
Characters (Problem Sleuth)
Locations (Homestuck)
Locations (Problem Sleuth)
Inventory (Homestuck)
Inventory (Problem Sleuth)
Concepts
Ad blocker interference detected!
Wikia is a free-to-use site that makes money from advertising. We have a modified experience for viewers using ad blockers

Wikia is not accessible if you've made further modifications. Remove the custom ad blocker rule(s) and the page will load as expected.