Welcome to MS Paint Adventures Wiki
The wiki about MS Paint Adventures, and other
works of Andrew Hussie, that anyone can edit.
898 articles since December 2008
---
---
USEFUL LINKS
Featured Article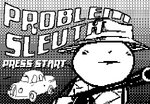 Problem Sleuth is the third MS Paint Adventure. Initially a parody of detective noir stories, though quickly abandoning that premise in favor of stranger and wackier plot directions, the adventure tells the story of Problem Sleuth, Ace Dick and Pickle Inspector, three competing private detectives who operate out of neighboring offices in the same building. When all three become trapped inside their respective offices, they join forces to find a way out of their predicament and defeat the evil Mobster Kingpin, who possesses the key they need to leave their building.
Problem Sleuth debuted on March 10, 2008, relaunching MS Paint Adventures after the abandonment of Bard Quest eight months earlier caused the site to be shut down indefinitely. Exactly one year later, on March 10, 2009, the central storyline reached its conclusion, and, after the release of an additional epilogue chapter, Problem Sleuth ended on April 7 with a total of 1,673 pages.
Read the full article here.

---
What's new on the MSPA Wiki
April 20, 2018 – Friendsim Volume Two releases 4/27
The first volume of Hiveswap Friendship Simulator has only been out for one week, but the next installment is already on the way: What Pumpkin has announced that Volume Two will be released on April 27. It will be sold as DLC for Volume One and will feature Cirava Hermod and Amisia Erdehn as your new potential friends.
---
April 13, 2018 – Happy 4/13!
Homestuck began nine years ago today! To celebrate, the first volume of Hiveswap Friendship Simulator is now available on Steam, and the first Viz Media Homestuck book, collecting Acts 1 and 2, is now in stock at retailers like Amazon and Barnes and Noble. Plus, to promote the book, several websites have published interviews with Andrew Hussie, including Newsweek.
For Fans By Fans has launched the 4/13 merchandise event, which runs until April 16. Many items are on sale, with the coupon code NUMBERMEME adding an extra 25% off all in-stock items sitewide (excluding bundle boxes). There's also a contest, giving you the chance to win artwork of your original character from a Homestuck community artist. If that interests you, check out the question marks at the bottom of the event page: they link to puzzles that, when solved, give you keywords redeemable for extra contest entries.
---
April 6, 2018 – Hiveswap Friendsim releases 4/13; What Pumpkin store closing (again)
The Steam listing for Hiveswap Friendship Simulator has gone up, confirming that it will release next Friday - April 13, 2018. The game has received an M rating from the ESRB for blood and gore, violence and strong language, a significant increase from Hiveswap: Act 1's E10+ rating; the Steam description accordingly promises a darker look at Alternia.
What Pumpkin today announced that its current web store will soon be closing down. The original store was shuttered after We Love Fine/For Fans By Fans took over merchandise production in 2015, but What Pumpkin opened this smaller incarnation two years ago to sell art prints and a limited number of other goods. From now until April 20, all remaining inventory is 50% off.
---
April 3, 2018 – Hiveswap Friendship Simulator announced
It's been a big news week! In addition to the homestuck.com move, it was recently revealed that a number of key Hiveswap team members no longer worked for What Pumpkin Games, raising questions about the future of the project. Today, What Pumpkin addressed these concerns: the company is undergoing another restructuring, but Hiveswap development will continue, and more details will be made available in the coming weeks. In the meantime, the company is now also making a number of smaller games that will release between acts; the first of these is Hiveswap Friendship Simulator, a "platonic dating sim" series where you form non-romantic friendships with Troll Call characters. Andrew Hussie himself is writing the first volume, which does not yet have a release date.
---
Helping out
Not sure where to start?
Find out more about the wiki on the About page.
If you are new to wikis you may wish to check out Wikia Basics, and see Help:Contributing to learn more about contributing.
Adding and cleaning-up content
There are many articles that need improvement, you can help by adding content to "Stubs" or by a work over on messy pages. You can check the list of projects for more ideas. Don't be shy, get in there.
If you are unsure how to arrange or write content, the Manual of Style may be of assistance.
You can find a list of useful templates on Category:Templates, some of which are documented on the templates project page.
Talk and more...
Contents
Websites
Adventures
Games
Characters (Homestuck)
Characters (Hiveswap)
Characters (Problem Sleuth)
Locations (Homestuck)
Locations (Problem Sleuth)
Inventory (Homestuck)
Inventory (Problem Sleuth)
Concepts