RIDICULOUS FOLLY. INEXCUSABLE.
While sloppy is fine, it might be a bit of a good idea to arrange this particular page because, to be quite frank, as it is right now, it is just absolute garbage. Here's some detail: the deaths from GAME OVER need to be organized better, as do pre- and post-retcon differences.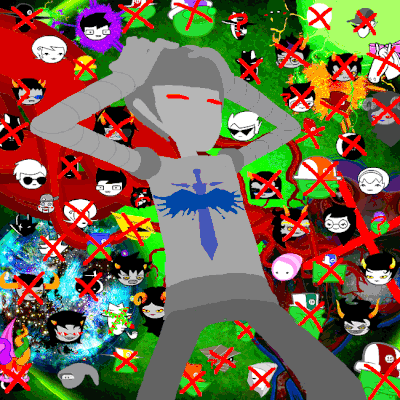 This is a list of all characters and their deadness attributes as of the most recent update. It should be noted that, in Problem Sleuth and Homestuck, death is generally not the final word. For Problem Sleuth characters, permanent death occurs only after the door to the afterlife has been wedged closed. In Homestuck, no afterlife has been shown to exist for characters who are not Sburb players, so they are presumably doomed to permanent death; however, for players, permanent existence failure is only possible through "double death" if the dream bubble containing their ghost is destroyed.
Confirmed deaths
Edit
Post-scratch Earth and Sburb session
Edit
Post-scratch Alternia and Sgrub sessionEdit
Pre-scratch Sgrub session
Edit
All twelve of the pre-scratch trolls were blown up by Meenah in order to continue existing after the scratch. As such, all of them were introduced as already dead.
GAME OVER
Edit
This is the timeline depicted in A6A6I2-A6A6I4. Many deaths take place in the events of GAME OVER

. Due to several planetary collisions, it is impossible to be certain who survived.
Retconned timeline
Edit
This is the timeline created by John's retcons, in which Jade spent the three years on the Prospitian battleship alone. The sleeping Jade and Jane that meet with Calliope in A6A6I4 are from this timeline.
Offshoot timelines
Edit
Double Dead
Edit
Various ghosts in a dream bubble – killed by L

rd English's mouth beam

Other deadness attributes
Edit
As the Hussiebot image at the top of this page becomes outdated with new updates, any of these characters may potentially be moved from their current deadness categories at any time.
Presumed dead, but uncertain
Edit
Just uncertain
Edit
Temporarily dead
Edit
Characters who did die but were replaced by their dream self, ascended to god tier, or simply revived.
Retconned
Edit
Some deaths have been removed from the events of the alpha timeline, but their pre-retcon ghosts still persist.
Temporarily "half" dead
Edit
Marked with half a cross on the Hussiebot image.
Never died... yet (alpha timeline)
Edit
Died once but revived themselves
Edit
Ad blocker interference detected!
Wikia is a free-to-use site that makes money from advertising. We have a modified experience for viewers using ad blockers

Wikia is not accessible if you've made further modifications. Remove the custom ad blocker rule(s) and the page will load as expected.