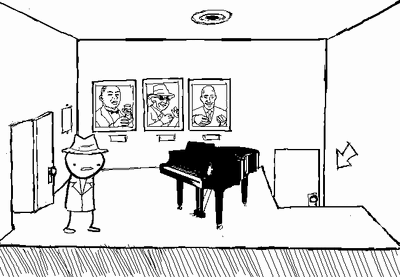 The jazz room appears to be a storage room for various instruments, but most of the instruments had been plundered from the room by the time Problem Sleuth arrived. Hung on the wall are portraits of Legendary Jazz Musicians. The jazz room is connected the Speakeasy via a small staircase, but a certain amount of weird puzzle shit has to be accomplished before one can leave up to the Speakeasy, as it is blocked by powerful security measures.
Ad blocker interference detected!
Wikia is a free-to-use site that makes money from advertising. We have a modified experience for viewers using ad blockers

Wikia is not accessible if you've made further modifications. Remove the custom ad blocker rule(s) and the page will load as expected.