Ad blocker interference detected!
Wikia is a free-to-use site that makes money from advertising. We have a modified experience for viewers using ad blockers

Wikia is not accessible if you've made further modifications. Remove the custom ad blocker rule(s) and the page will load as expected.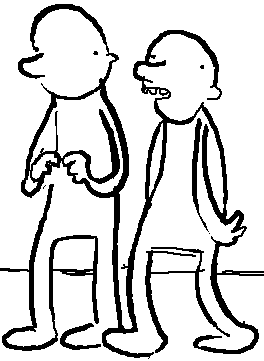 In Bard Quest, your character is able to make Flothers and Daunchy his servants. They get enraptured by your stolen codpiece and become your servants. They provide suggestions to where you can find dragons to slay. You beat them up when they think of bad ideas, and if Daunchy suggests looking in the Caves of Harold, you beat him to death. What they are wearing no one knows for sure, but probably similar outfits as Sweet Bro and Hella Jeff.
Daunchy often gets the short end of the stick, as shown if you go to the Swamp of Mystery, the Caves of Harold, or dragon concentration camp. The things that Flothers gets and Daunchy doesn't:
Swamp of Mystery: a thick T-bone steak
Dragon Concentration Camp: beaten up for a reason
Caverns of Harold: to survive