Exiles
Talk

30
827pages on
this wiki
DO THE POTTED VEGETABLE INSTEAD.
IT LOOKS DELICIOUS.
Pipe down, you. This is the editors' decision, not yours!

Either way, this page could probably be merged with another one.
A QUEST OF FUTILITY THEN.

This page may not be done in a while - or ever, until the game that this page is related to has been beaten.

Please keep coming back to and updating it.
Exiles
are
Prospitians
and
Dersites
that have been exiled from their
Incipisphere
and live on post-apocalyptic planets after the
Sburb
players have left it and it has been wiped clean by
The Reckoning
. Their purpose is to reintroduce civilization to the planet and assist the Sburb players
that previously inhabited the planet
.
Introductions and habits
These nomads travel the vast desert that used to be Earth in the year 2422. They travel alone and with little more than they can carry. Along their travels they show habits and actions parallel to one another.
They are non-human and dressed only in cloth.
Four of them stumble upon a Sburb related structure during their travels at the same locations as the homes of the children.
Inside of each base, they find a Homestuck Interface Device which allows them to send messages to the children in the past.

The computer in the Skyship base can send commands to John. It has also shown Dave on one of the monitors but the Vagabond had not talked with him.
The Helipod base had been able to communicate with Jade, but was exploded by Becsprite upon his noticing of a mail woman attempting to ge her attention. Dogs do not like Mailmen.
The Renegade was able to use the computer in the Bec Head Base to talk to Dave for a short time before destroying it
The Questant has a computer in the Egg Base which she can use to command Rose.

They each fly their base to Jade's island--except for the Renegade, who started there, and the Keeper, who was secreted in the lotus capsule inside the frog temple and thus also started there.

All the kids' exiles
Traits and likenesses
Each has an idolized government occupation they admire and strive to be.
The trolls' exiles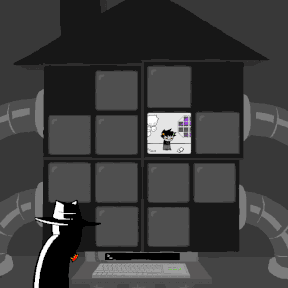 Post-Scratch
A number of Prospitians and Dersites live on Post-Scratch Future Earth.They have been seen to break into the Skaianet Laboratory for what Roxy suspects to be hunting cats for food.
Unlike other exiles, these were brought to Earth by The Imperial Condesce rather than through The Reckoning (which never happens in this iteration of this universe).
List of exiles