Far future Earth
Talk

30
828pages on
this wiki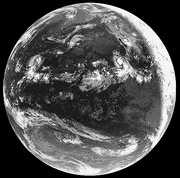 Calliope and Caliborn's Planet is a future iteration of Earth where the two Cherubs live. In order to avoid destruction by the Red Miles, Earth was moved by its "proprietor" to a red sun, which is now nearing the red giant phase and has therefore reduced the planet's surface to a wasteland which appears red because of the sun's intense light. A Veil meteor (most likely the Trolls' Meteor) has crashed upon it and serves as the home of Calliope and Caliborn. Other than that the Planet is bare except for a large number of ruined, JPEG-artifacted Statues of Liberty, which automatically means it is Earth, as a general rule.
Aranea notes during her cherub exposition

that, sometime between Earth being relocated and the cherubs being hatched there, other civilizations had risen and fallen

.
During Caliborn's entry

the planet entered the Medium with Caliborn and took the role of his planet in the Medium instead of one usually generated by the game. As a part of this transformation, the denizen Yaldabaoth has taken up residence in the core.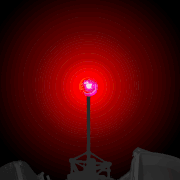 A strange computer connected to a broadcast tower is also located on this Earth, displaying the current act and narration on the page and allows a user to converse with the narrator. During the course of his quest, Caliborn has unlocked many more of these towers

Caliborn eventually leaves Earth and heads to his session's proper planets, and he apparently "conquers" two of these Lands by the time of this page

.