Chainsaw/Lipstick
Talk

0
828pages on
this wiki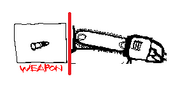 The Chainsaw is a weapon introduced in Problem Sleuth. Like many of the weapons in the game, it is hidden away as an innocuous double, which in this case, is a stick of lipstick. The lipstick is first found by Nervous Broad in her room who gets into a highly heightened state of the nerves by just wielding such a deadly weapon, and the lipstick is eventually transferred to Hysterical Dame, where she scribbles on the door to open it.
The Chainsaw is fairly unique in that the chainsaw effect (Tearing things apart) still works while it's in its more "Harmless" state. Merely writing with the lipstick still can do tremendous amounts of damage.
HomestuckEdit
Kanaya Maryam has a Chainsaw/Lipstick weapon that is under makeupkind. Unlike in Problem Sleuth, it does not appear as a game glitch, but rather seems to physically change its shape and properties depending on the task at hand. Also, the Lipstick function actually acts like lipstick, not like in Problem Sleuth where scribbling on something with the lipstick will act as if the Chainsaw was used instead.