11 11 11
Talk

3
828pages on
this wiki
Yet another number of dubious importance, 11 11 11 (and variations such as 11 11 or 111) is the arc number of the post-Scratch kids' universe.
Appearances as a date
Edit
Appearances as a time
Edit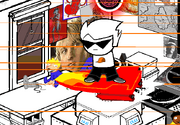 Appearances in currency
Edit
On this page, Jane is shown to have 110,110,110 boondollars.
On this page, Jake is shown to have 111,111 boondollars.
Appearances relating to the characters
Edit
Each of the post-scratch kids has 4 letters in their first name and 7 letters in their surname; 4 + 7 = 11.
The 2x3dentkind weapons of Feferi Peixes, The Condesce, and Meenah have the same number of spikes as 11 11 11 has ones.

Furthering their connection to the number, Feferi and Meenah both employ emoticons with 38s (representing their crowns and goggles) which equals 11 when 3 is added to 8.

Eridan's affiliated number, 311, obviously represents three 11s, just like his fellow sea dweller.
One of the pool ball combinations for Lrd English's eyes is 1 and 11, imitating one of Quarters's quarters, which likewise has the number "1" one side and "11" on the other.
There are 11 Delirious Biznasty icons on Jake's desktop.
After engaging Trickster Mode characters tend to repeat things in 11s.
Appearances as a random number
Edit
Appearances relating to the albums Edit