Home
Talk

5
827pages on
this wiki

Welcome to MS Paint Adventures Wiki
The wiki about MS Paint Adventures that anyone can edit.
827 articles since December, 2008
Featured Article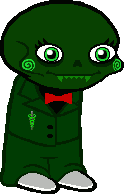 Cherubs are a race of aliens, first introduced as a concept on this

page, then described on this

page. Known cherubs include Calliope, Caliborn and L

rd English (who are technically all the same physical being), as well as Calliope and Caliborn's parents.
Cherubs have the appearance of green-skinned humanoids with skull-like heads, with spiral patterns on their cheeks that appear to reflect their blood color, and dark areas under their eyes similar to that of the trolls. They also have claw-like hands, sharp teeth and forked tongues that likely change color based on which personality is in control. They also apparently

have exoskeletons. The only physical differentiation between the two personalities is the coloration of their cheek swirls (and eye color, though this is not mentioned by Aranea when describing the cherubs here

, but is present in the character models of Caliborn and Calliope), which indicates alignment. There is otherwise no way to tell the male and female halves apart before a cherub predominates.
Read the full article here.
---
What's new on the MSPA Wiki
April 14th - End of Act 6 Intermission 5, Homestuck on hiatus
There now remain only two chapters left in the story: Act 6 Act 6 and Act 7. However, Andrew Hussie has announced that, in order to ensure that the Homestuck Adventure Game is released on time, he will be taking a multi-month break from the comic to focus on writing and planning for the game.
April 13th - 4 years of Homestuck
As we reach the end of year 4 we await for the highly anticipated anniversary update.
April 5th – John Limblish
How do you expect to outrun John's arm, when it is already everywhere?

April 2nd – April Fools!
But never fear, you can always relive the day of boners, forever.
March 17th – Happy St. Patrick's Day!
To celebrate, Hussie has given us the thing everyone had been waiting for, exposition

on leprechaun romance!
Helping out
Not sure where to start?
Find out more about the wiki on the About page.
If you are new to wikis you may wish to check out Wikia Basics, and see Help:Contributing to learn more about contributing.
Adding and cleaning-up content
There are many articles that need improvement, you can help by adding content to "Stubs" or by a work over on messy pages. You can check the list of projects for more ideas. Don't be shy, get in there.
If you are unsure how to arrange or write content, the Manual of Style may be of assistance.
You can find a list of useful templates on Category:Templates, some of which are documented on the templates project page.
Talk and more...
Contents
Adventures
Characters (Homestuck)
Characters (Problem Sleuth)
Locations (Homestuck)
Locations (Problem Sleuth)
Inventory (Homestuck)
Inventory (Problem Sleuth)
Concepts